Hi! I'm Lisa Mabey from Mabey She Made It, and I'm thrilled to be contributing this season. When I heard that the theme was wild things and we got to pick a habitat as a starting point for our inspiration, I knew I wanted the savannah. I was able to visit South Africa several years ago, and I've been enthralled with these gorgeous animals ever since.
There is so much to be inspired by! And while everyone immediately thinks about leopard print, zebra stripes, and even giraffe spots, I'm hoping to think beyond the obvious today and show you a few things about elephants, lions, zebras, and giraffes that inspire me (and hopefully you too!). I'll point out a few things I love, then show you how I translate them into fabric, shapes, and patterns. Let's get started!
Elephant
When I think about elephants, I think about wrinkles. Not the too-lazy-to-iron wrinkles–the depth and texture of fabrics and how something monotone can be gorgeously complex because of that texture. I also love elephant ears. They're beautiful, multifunctional, and they drape wonderfully.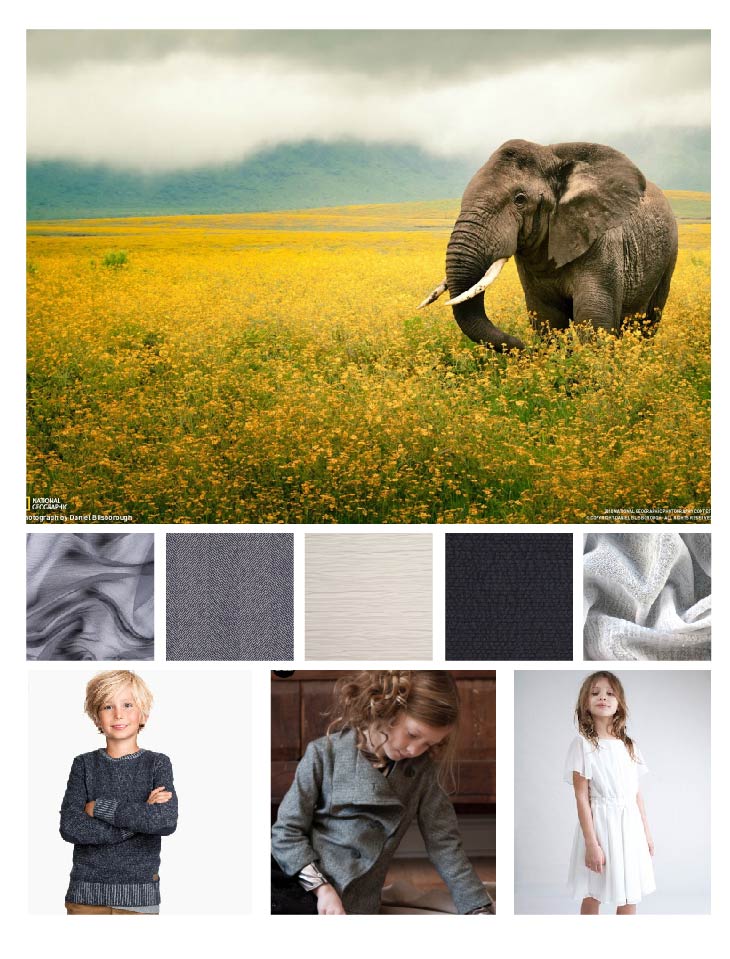 Dark Silver Crinkled Chiffon | Navy and Off-White Herringbone | Crinkled Cotton-Polyester Jersey | Black Crinkled Silk Organza | Cotton Bubble Gauze
Knit Sweater | Gretchen Dress | Muse Jacket
The fabrics above have depth and movement to them. They're crinkled, bubbled, and have slight variations that make them interesting although they're mostly solid. I love how that translates to the clothing as well. A heathered sweater, a herringbone jacket with subtle details, and a floaty white dress with sleeves that imitate elephant ears.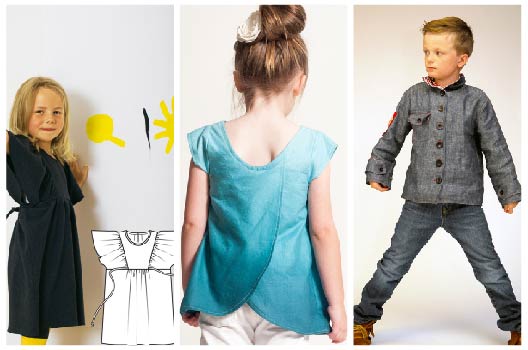 Girl's Flouncy Dress | Glass Onion Top | Jude Jacket
Naturally, the patterns I chose also have some of these same elements. I love the sleeve detail of the Flouncy dress, the curved back panels of the Glass Onion Top, and the subtle details and texture of the Jude Jacket.
Lion
These majestic animals are fierce, massive, and powerful. And what would a male lion be without his mane? While lions also don't necessarily have a lot of color variation, they make up for it in thick fur and wonderfully wild cowls.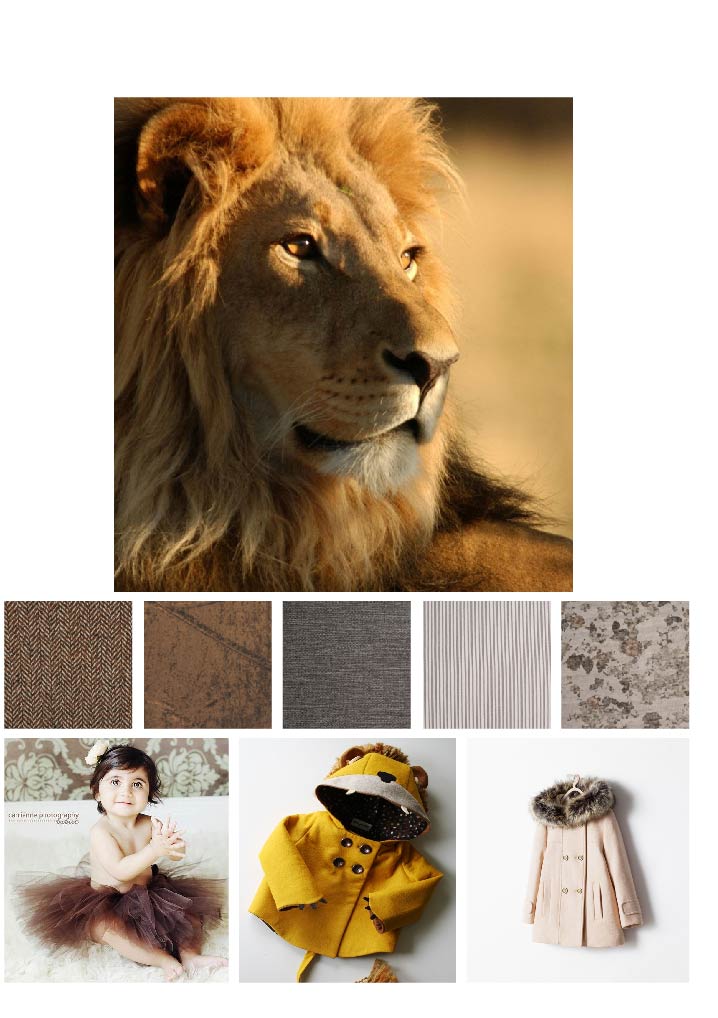 Dark Tan/Natural Herringbone | Crushed Panne | Turkish Flannel Spotted | Chocolate and Off-White Striped Cotton | Oatmeal Watercolor Knit  
Brown Tutu | Ferocious Felt Lion Coat | Coat with Detachable Hood by Zara
So let's talk about the fabric and color selections above. I kept it within the neutral browns, but still wanted some movement and depth. Once again a herringbone, some crushed panne, simple stripes, and even a floral combine to give these effects. Moving down to the clothing, I love the layers and wildness of the tutu, absolute cuteness of the Ferocious Felt Lion coat, and the (perhaps obvious) fur-lined hood of the second coat. All three of these pieces demand attention just like a lion.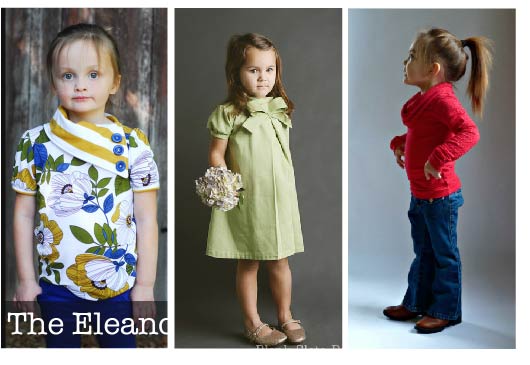 The Eleanor Dress | Little Bow Pleat Dress | Bimaa Sweater
For these patterns, neck details were important to me. The split cowl detail of the Eleanor dress, the mandarin collar and bow of the Little Bow Pleat Dress, and the drape of the Bimaa Sweater all draw your eye to the neck, just like a lion's mane. I also find it interesting that the patterns I was drawn to are all of girls (although the Bimaa is for boys too). And while these darling girls don't look ferocious, they do catch your attention.
Zebra
The zebra's stripes are undeniably cool. The patterns are unique to each animal, but we're drawn to the bold, eye-catching striations that are common to all zebra.
(Fun fact: zebra moms take their babies away from the herd for a few days while the baby learns it's mom's stripes. Then, when the baby knows his mom visually, they return to the herd.)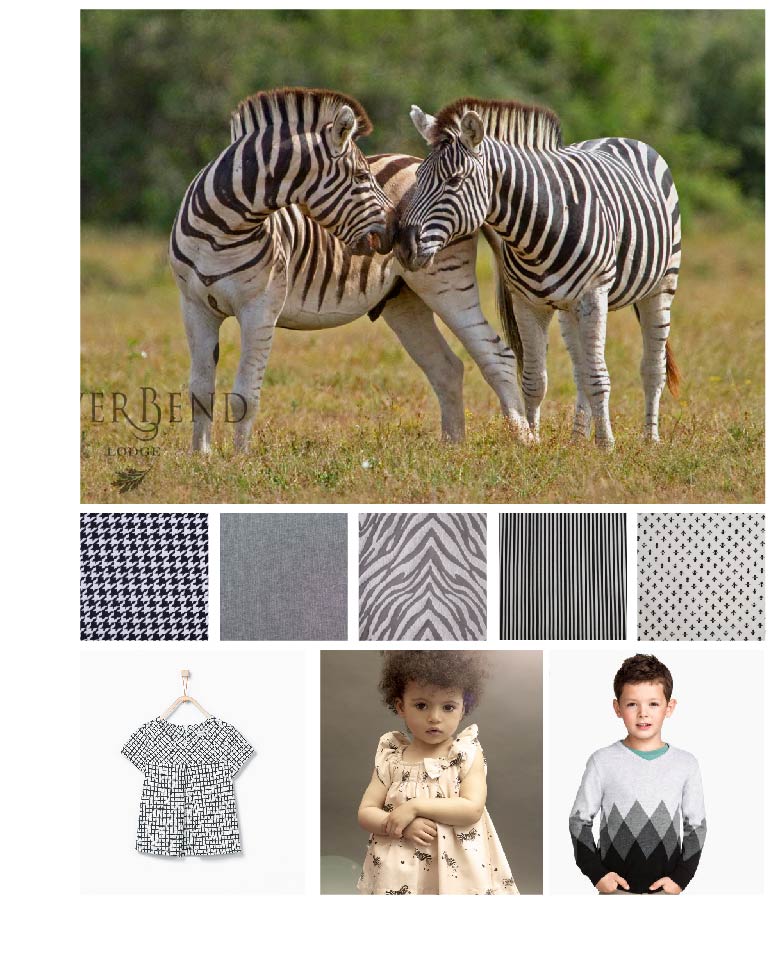 Black & White Houndstooth | Black Cotton Chambray | Silver Animal Brocade | Black and White Striped Cotton Voile | White/Black Fleur de Lis Cotton Poplin 
Check Top | Argyle Sweater |  Zebra Top
So in addition to a zebra print, I found bold black and white prints visually inspiring as well. Everything from houndstooth to stripes, to small flour de lis caught my attention. And I threw a little black chambray in there for good measure because you can't go wrong with chambray, and half of the fun of the zebra is creating a distinct pattern.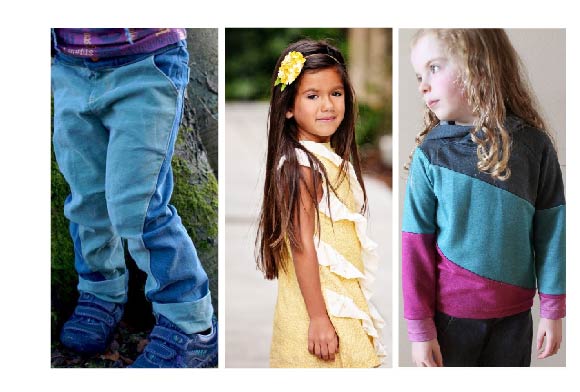 Twist & Shout Pants | Isabella Dress | Asymmetrical Color-Blocking
That's where these patterns come in. I love the asymmetry and the chance for color blocking in each of these patterns. The twisted side seam of the Twist & Shout pants is unexpected, while the diagonal ruffles of the Isabella Dress and the unique lines in the Asymmetrical Color-Blocking shirt give you plenty of chances to create your own distinct patterns and visually stunning combinations.
Giraffe
I don't really know what it is about the giraffe that I love so much. They're so awkwardly long and they're not graceful, but I still love them. They have a beautiful pattern, but I think more than that it's silhouette that sets them apart.
Pumice Ikat Print | Italian Silver/Brown/Black Striped Suiting | Giraffe Print Fashion Fur | Dirty Moss Floral Cotton Poplin | Mustard Faux Suede
Fringed Patterned Poncho | Zara Look 8 | Smart Tomboy
I had so much fun finding these giraffe-inspired fabrics and clothing. Ikat was a fun interpretation of giraffe spots with their similarly uneven edges and I loved bringing yellows and mustards into the color palette. Florals, stripes, spots, and solids rounded out the fabric selections, and I love how different each of the fabrics feels while not straying too far from the inspiration. And those clothes! I love the fringed edges of the ikat poncho that imitate the fringy mane. Combine that with plea dots and long leggy silhouettes and I'm just dying to put my girls in giraffe-inspired outfits.
Beachy Boatneck | Skinny Jeans | Flashback Skinny Tee
That being said, these three (unisex) patterns lend a lot to a lean silhouette. Pair some skinny jeans and a skinny tee with any of those fabrics, add in some fabulous accessories (can you tell I have all girls?) and you'll feel like you're ready to walk with the giraffe.
And that's it for today. I hope you've felt a little of my love for savannah animals and that you'll find your own take on these wild things for the rest of the season!