My first word was "pree pree" (pretty pretty). My grandma was a prolific seamstress, and almost every time we went to her house she had a new little dress sewn and hanging in the hall. It wasn't long before I knew that those "pree prees" might be for me and my mom tells of me standing at the end of the hall with arms reaching toward the newest creation expecting it to be put on me.
I loved the feeling of being dressed up, and I still do. I also love the feeling of satisfaction and pride when I've created something pretty. I'm Lisa Mabey from Mabey She Made It, and today I get to share a little about why I sew. There's something magical about the combination of practical and pretty, and I think that magic is one reason I sew–some of the others are below.
Lillian Pintucked Top || Pattern Mashup
I get to express myself creatively. Sewing fulfills a need to create and includes a way to connect with other women. I've always loved to create, and it's taken many forms throughout the years, but once I started sewing I was hooked. I got a sewing machine for Christmas about five years ago when I became a stay-at-home mom to add stitching on paper crafts, but it only took one project before I abandoned the paper crafting for fabric. There's something so fulfilling about taking fabric and creating something wearable. Then take that wearable item and add the community of women who sew, and I'm in heaven.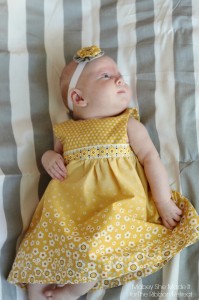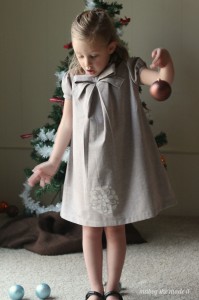 Geranium Dress || Little Bow Pleat Dress
I get to show my style (and they get theirs).  When I started sewing I wasn't a fan of pink clothes in general. But it's REALLY hard to dress a baby girl and avoid pink. I remember lamenting that there wasn't much that I WANTED to dress her in. There were a million "cute" things, but they weren't my style. As my children have grown, their wardrobes reflect my style more than they ever have before.
And as they've grown, they're developing their own styles which I can help nurture. They love mama made clothes and most days they wear something handmade. Its also become a tradition that they get to pick fabric for a birthday skirt each year. When its made, they prance around all day–telling anyone who will listen that "my mom made it for me." Everyone wins.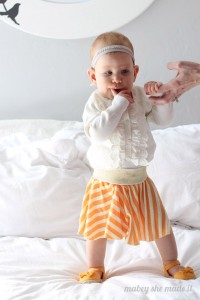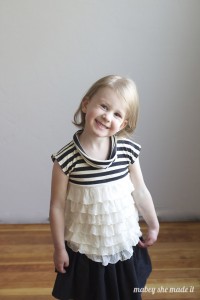 I get to be the designer. Sometimes its inspiration, sometimes its luck, and sometimes its just plain obvious the choices I make when sewing. I love the feeling of seeing an idea come to life–an idea that started as a pattern and a pattern coming together. I love using fabrics that aren't typical choices for children's clothing because it adds a classic feel. And sometimes magic happens when you combine different patterns by different designers into a cohesive look that you'd never find in a store.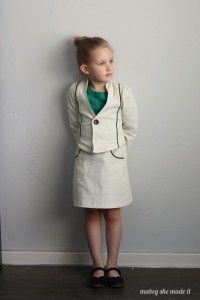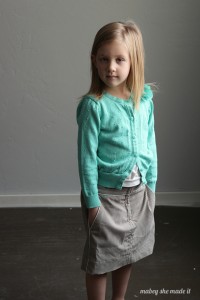 Mini Mod Suit || Potato Chip Skirt
I get to feel pretty in clothes I made. I still love a good "pree pree." My closet is filled with dresses and skirts because I feel beautiful in them. And I know my girls feel the same way. As my sewing abilities have increased, so has my confidence in the clothes I make and dress my girls in. I know that they're quality pieces inside and out, and it feels good.
Recreating Kate: Issa Engagement Dress || Extraordinary Girl Tee
In short, I sew because I can. I've had so much fun writing, researching, and sewing along with this season, and I'm sad that its come to an end, but my sewing adventures are far from over. See you next season!