Hi again! I'm Lisa from Mabey She Made It, and I'm back for more inspiration fun. This time, we're talking about feathers on kids clothes. And while my mind automatically goes to Halloween costumes and flapping wings, I didn't want to focus too much on that aspect. Instead, I wanted to find some other ideas that could be used year round.  I think you'll have lots of fun looking through the ideas and tutorials I've put together for you today.
Techniques
One of the recurring themes I found while looking for clothes with feathers was creating a feathered look on shirts and fabric using different techniques. It was fun to see the different methods used including a bleach pen, markers, and stamps. I also loved the feel of the fringed sleeve that would flap and flutter like a feathered wing. Ignore the women in these photos, these techniques are great for boys, girls, and babies alike.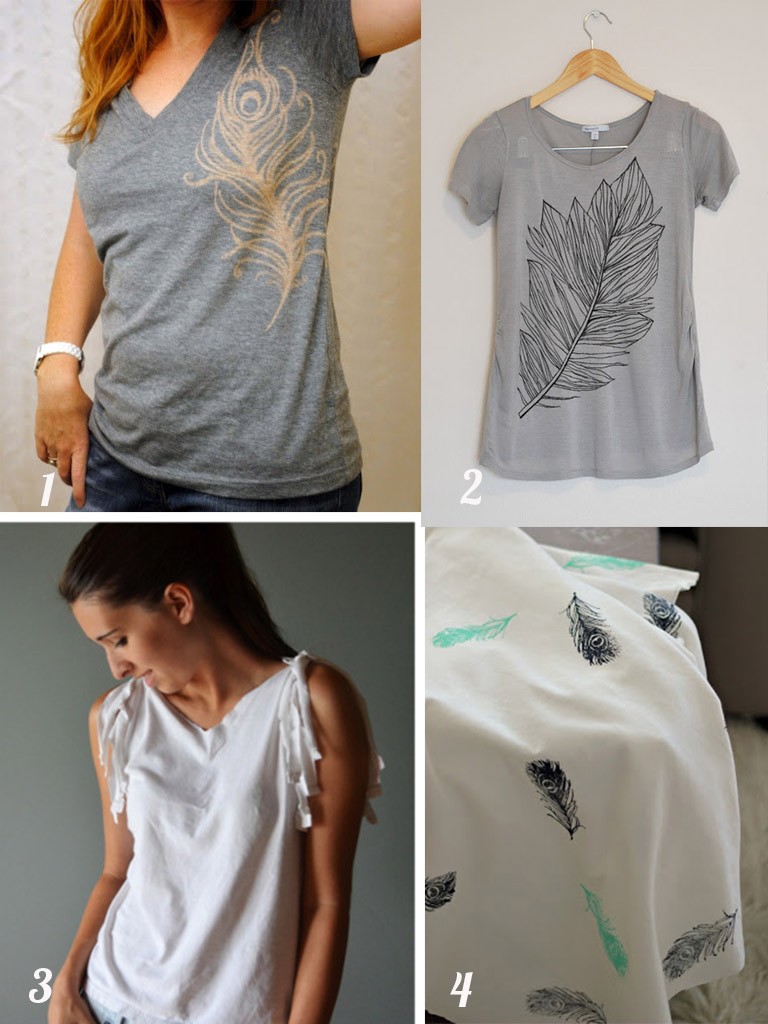 1. Bleach Pen Feather, 2. Marker Feather, 3. Fringy Sleeve, 4. Stamped Feathers
And what if you just want to add some feathers along the way? Here are some amazing ways to add feathers using fabric and embroidery. The raised fishbone stitch would be so amazing on a placket or for added detail somewhere on kids clothes and would hold up well in the wash. The turquoise Handmade Feather below would be fun to add onto things like accessories that wouldn't need to be washed.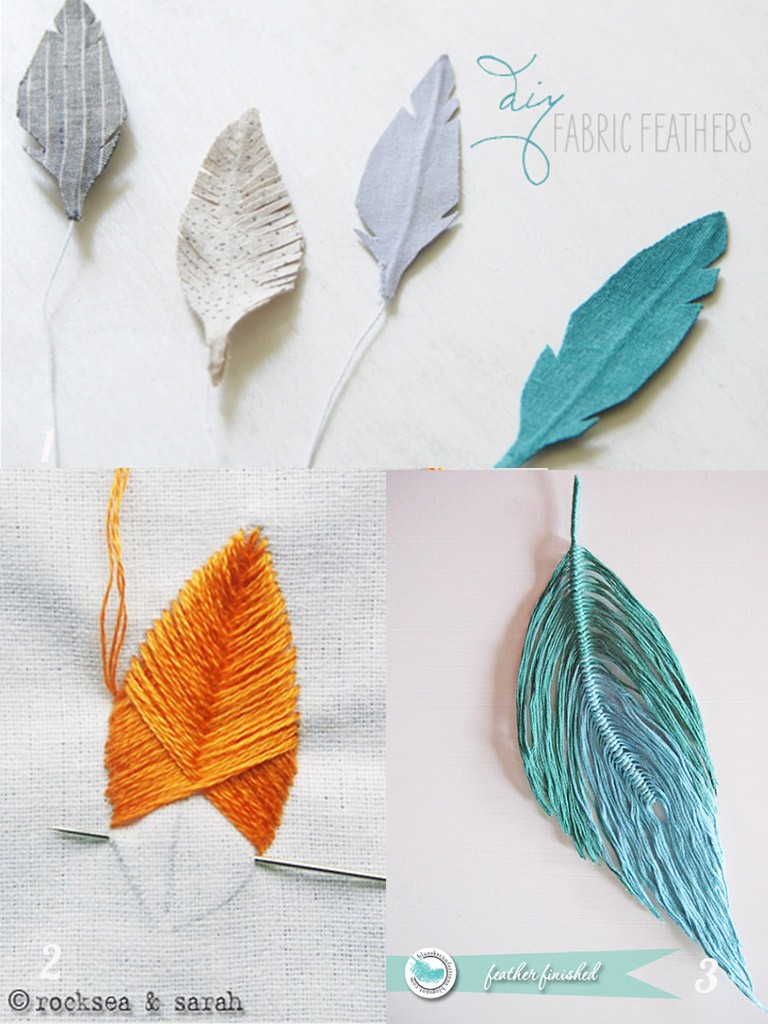 1. DIY Fabric Feathers, 2. Raised Fishbone Stitch, 3. Handmade Feather
Winged Boys
How do you take feathers (which are typically light and fluffy) and make them more masculine? How about safety pins, leather, and amazing appliqué that makes being a boy magical and masculine.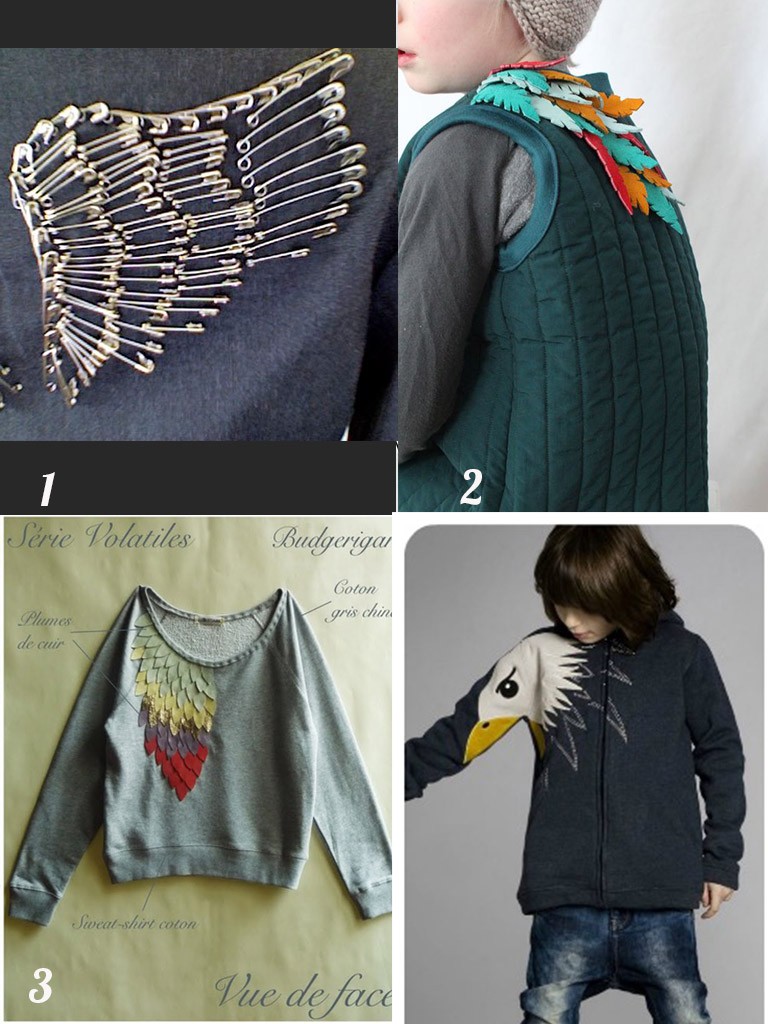 1. Safety Pin Wings, 2. Leather Feather Vest, 3. Feather Sweatshirt, 4. Eagle Coat
Feathered Girls
Feather boas and feminine detail are the name of the game here. I think we all know that kids can be hard on their clothes, so incorporating delicate feathers is both fun and challenging, but they're kind of irrestistable. I love the feathered hemline and skirt of 1 and 3 contrasted with the structured petals and ruffled bustle of 2 and 4. Both sets evoke the feeling of feathers and wings, but in completely different ways.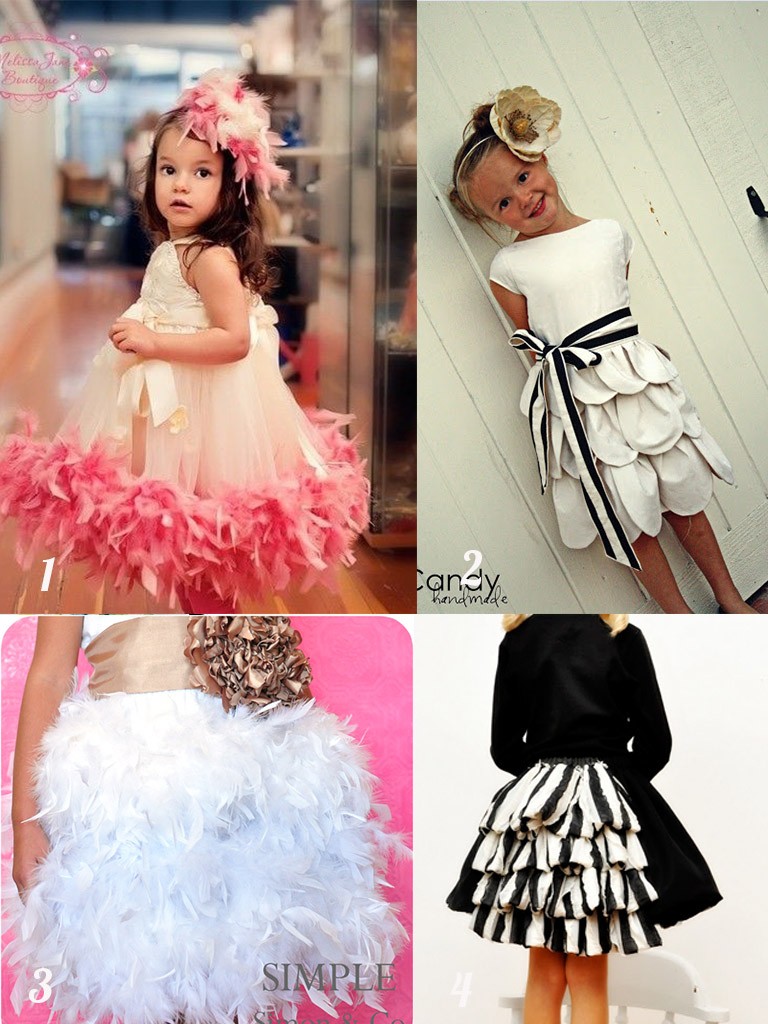 1. Feather Boa Hem, 2. Petal Dress, 3. Feather Tutu, 4. Bustle Skirt
Accessories
And last, but not least, let's add some accessories! Because feathers make me feel fancy and fancy = accessories in my book.
1. Costume Wings, 2. Magical Wing Shoes, 3. Leather Feather Cuff
So what do you think about these ideas? How would you incorporate feathers or wings into your kids clothes?